' Everything that's wonderful is what I feel when we're together ~ '
I had the chance to help my friend at Cupcakes by M at her first wedding event; transporting, setting up and photography her wedding cupcakes for a couple's big day!
I had little idea what I was expecting, all I knew was… there would be roses, and tea cups - immediately I thought, garden tea party themed?
So the day came, 7am in the morning, I arrived at Martina's place and she was just doing the final touches. Now transporting the cupcakes for a wedding is another responsibility for myself as the driver; who kept thinking "drive like a granny", fortunately it arrived safe and sound!
The wedding ceremony and reception took place at Centennial Park, Sydney – it's a big park with many beautiful spots suit for a wedding… but this couple specifically chose one with the duck pond as a backdrop, with beautiful trees nearby. Although the light when we arrived was a little harsh (as you will see in the photos below), but I can imagine as the day dawned it will be a really beautiful sight!
I've never seen a wedding unfold before my eyes… so this was a first time… although as a 'passerby', the atmosphere was great…. especially with the sight of beautiful flowers and decor slowly put into place. But our responsibility was, to set up the more important features of this wedding… the 7 tier tower of cupcakes! I shall let the photos speak for itself!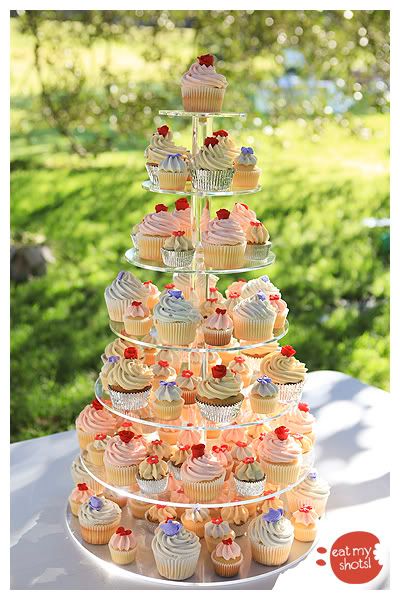 While setting up…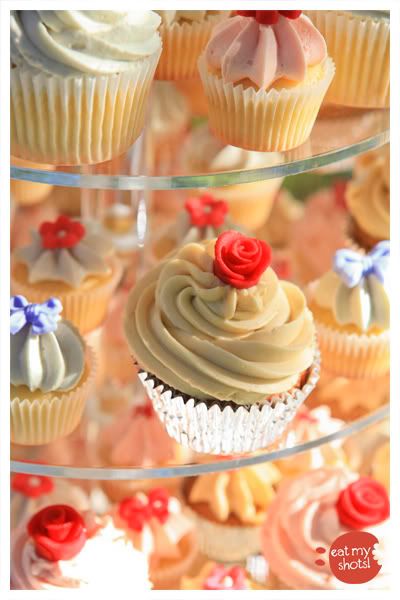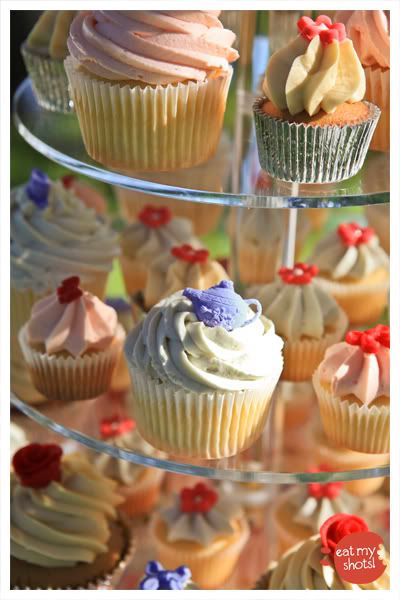 There were tea pots and tea cups!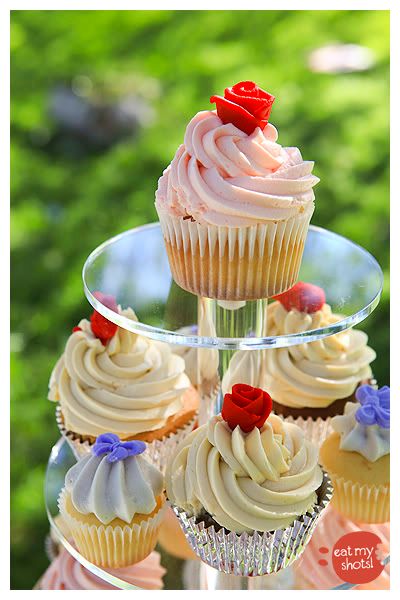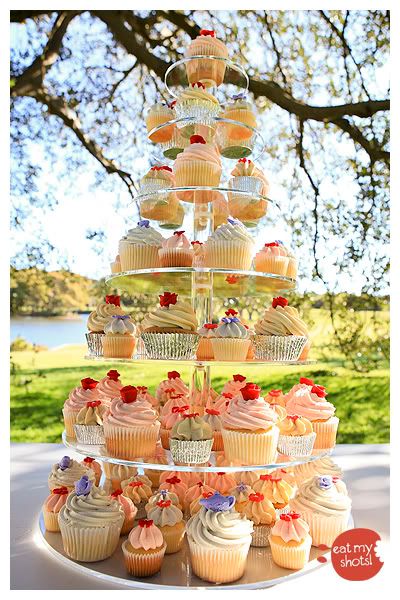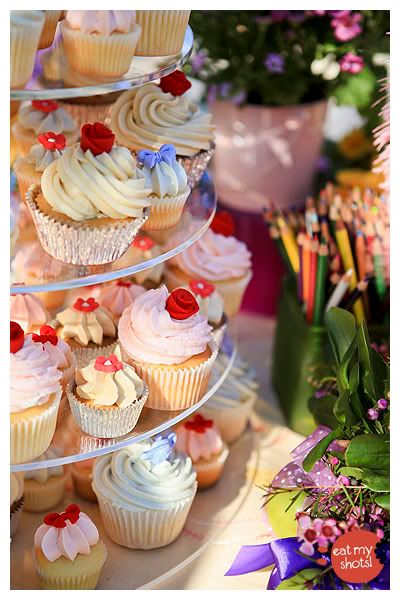 Look at the details of decor on the table!!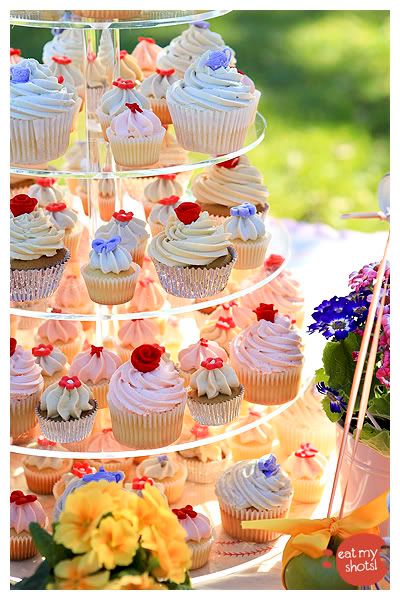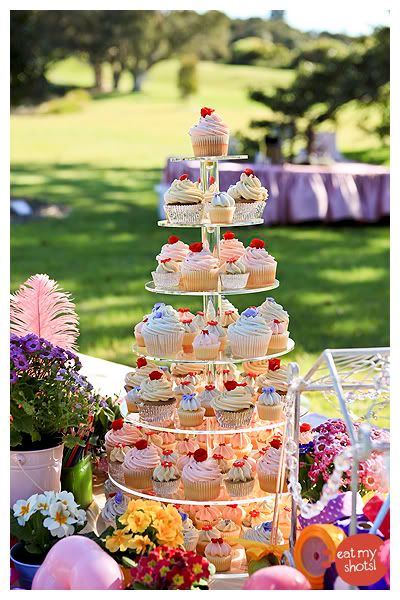 Yes, the cupcake tower belonged on the 'sweet things' table… along with green apples, ribbons, feathers, giant lollipops.. mm mm!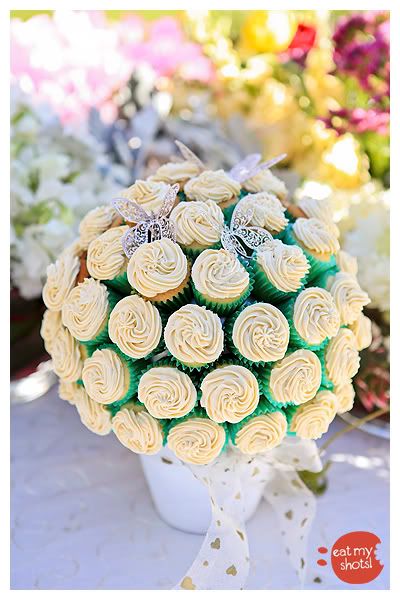 Then there was the signature Cupcakes by M bouquet with beautiful lace butterflies!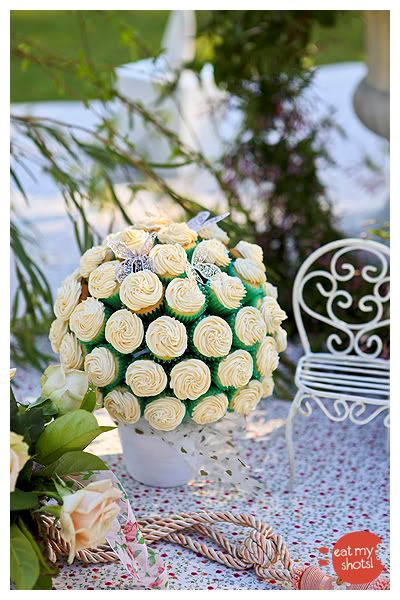 The decor on this table is to die for!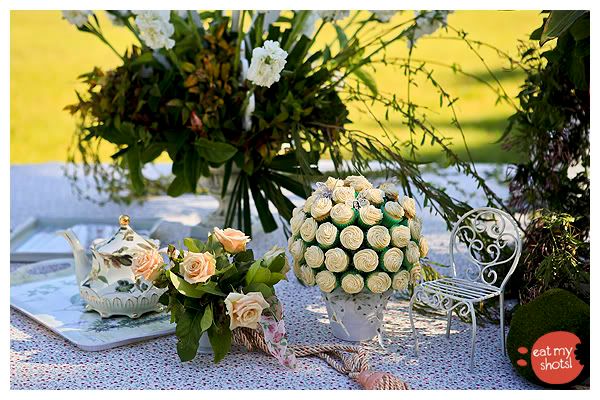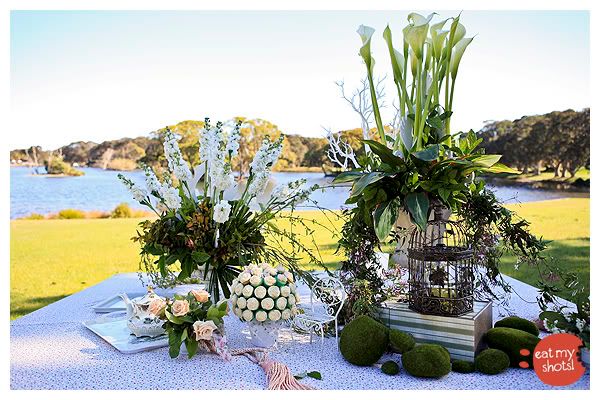 As you can see, this was the more 'tea party' table, now how fitting is the bouquet of cupcakes? If I weren't so familiar with cupcake bouquets, i would say it blended in quite nicely with the flowers! and see the birdcage on the right? the decorator later put a real canary in there!
What I loved about this wedding is, there were many different assorted flowers – which of course fit well with the wedding theme! Good job to Mosi's Florist !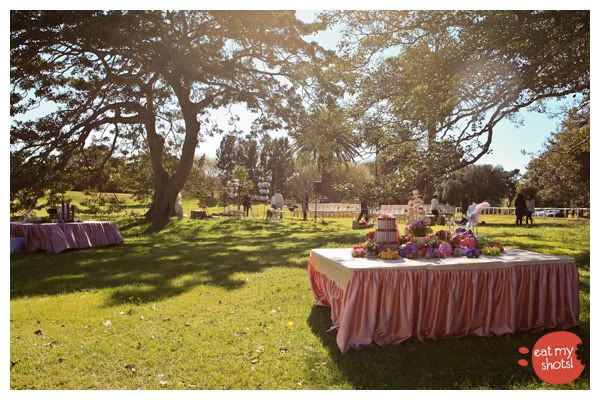 Don't you just hate it when you 'capture beautiful light accidentally'? in this case, it was the last look at the wedding on our way out ~
After much hard work – Cupcakes by M has completed an impressive job again! Looking forward to her next wedding!

4 Comments
it's CLARZZY!

foodie | photographer | designer | student
Feed me…
Popular Posts