//rant//I'm annoyed. I finished typing this on another PC .. then went back to my laptop and 'previewed' the unfinished draft – stupid or what, now I have to start from where I left off!…
Hello Foodie friends!
Sorry for have neglecting this blog for my personal blog, only recently did I complete my university assessments and have since started working – meaning; less dine outs! less time to cook something nice after work too… and take photos of it while the sun is out. I'll try though!
But yes, I've had this 'foodie' suggestion sitting in my draft posts for over a month now and only getting my head around it.
I think its one of the last breakie dine outs I've had!
So, I couldn't resist using the word 'foodie' in this post because, the cafe I'm about to reveal is called Foodies!
Some months ago, driving to the boyfriend's in Doll's Point, just blocks away from his house was a new cafe in the making… The first time I noticed it was one late afternoon, and the only thing that caught my eye behind their closed glass doors was their 'chandelier' of paper coffee cups! So, some months later… I visited the boyfriend… with the intention of going to breakfast with him! Lucky for him, he didn't have to go far… it was only a 5minute walk from his place!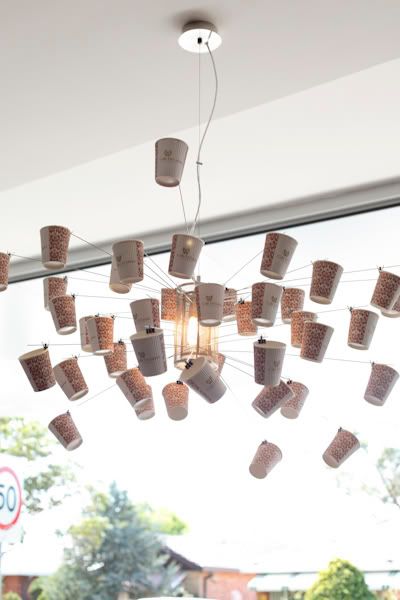 It was a weekday and I have to say it was reasonably busy; I mean it is a new gem on the block! While sitting in the cafe, I discovered a little more every minute. The finer details in a cafe that gives it character is what I love. If you weren't aware, I'm the kind of diner that would give points to awesome interior decor, so this was one of the cafes that scored points there! If you looked up, they had the word 'Foodies' stuck on to the ceiling. Each individual letter cut out of Styrofoam – unfortunately my camera couldn't capture it *50mm 1.4 too close

*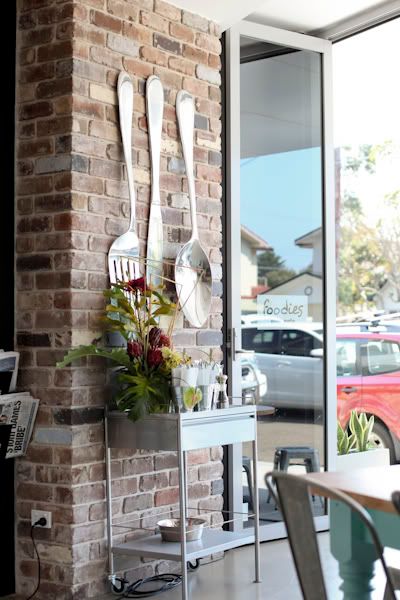 Would a giant spoonful be enough for your appetite?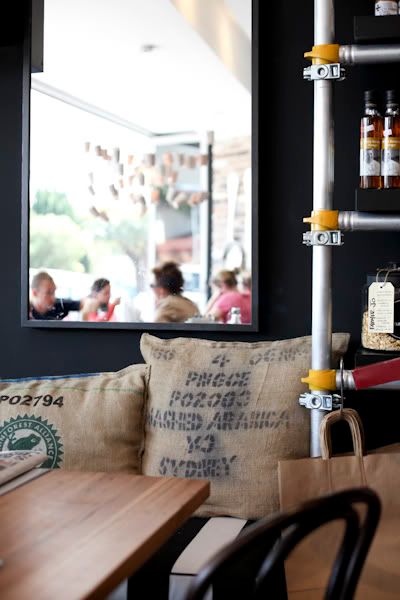 These canvas sacks aka. Cushion covers are such an awesome addition to the decor! *not that I'd have them in my home though*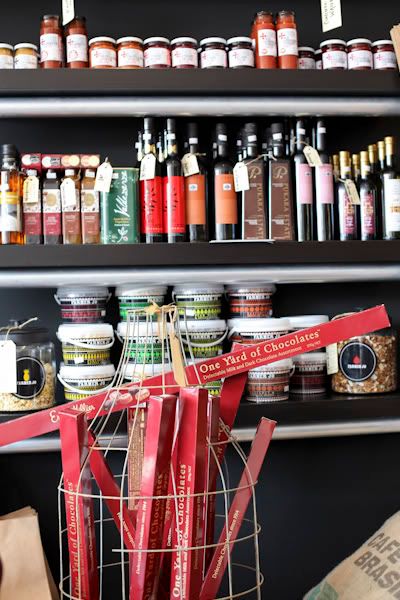 As the title suggests, this cafe doubles up as a Deli! Imagine nibbling through 1 yard long of chocolate? mmm…. ehhhh..
So what have you gathered from looking at all the above photos? My first impressions are, organic, eco friendly, healthy….
Lovely display of pastries, wraps, sandwiches etc!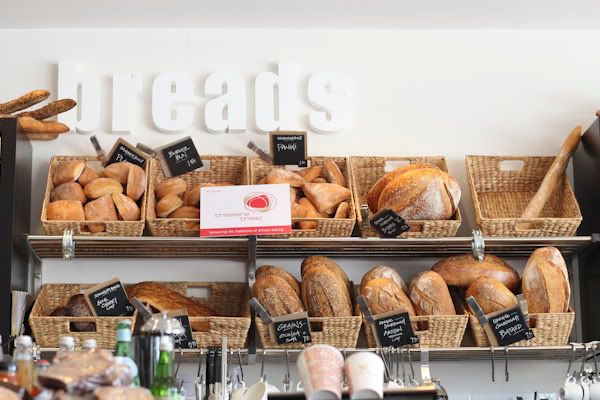 Recognize that logo? Yes, it's Brasserie Bread, bread! Now if you haven't tried or heard, apparently their bread is one of the best in Sydney! (correct me if I'm wrong?) I've always wanted to try it, but getting to it can be a pain… but since they have it at Foodies, it's just that much more convenient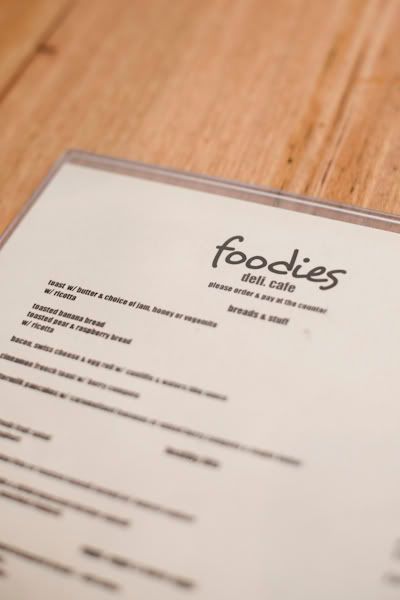 Most importantly…. on to the food…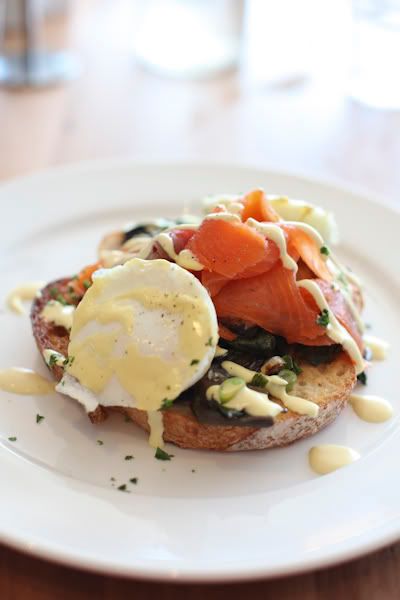 You could probably guess what I ordered, yet another Egg's Benedict!… I swear it tends to be the safest thing in the menu, and I love it when it gets served up to me, a little different than the usual. There's probably not that much difference about this one though, except if you notice, it's missing the lush green colour of baby spinach. That is the difference, instead of spinach served up 'raw', it is cooked… ? I guess that's the only thing that kind of spoiled it, for me anyways. But otherwise, everything else was good… the best bit I'd have to say is.. the bread! (which I assume is Brasserie bread)… is so nice! Went really well with the smoked salmon and egg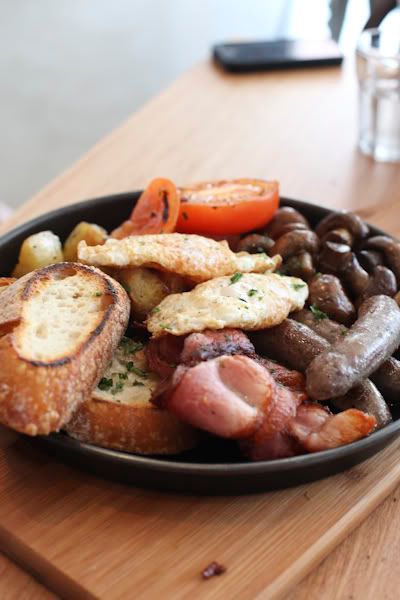 So the boyfriend ordered the Pan breakfast, which I assume is aka a Big Breakfast – I tend to steer away from… because I doubt my appetite to finish all that!… The smarter approach is to steal from the boyfriend's share!

I assume that most of it was cooked together, on the pan. The flavours were great, from what I tasted in the baked potato (i like), mushrooms and the sausages were good too. I'm curious if they were organic sausages? Because they weren't all that fatty!… I mean this cafe seems to promote organic, somewhat healthy eating!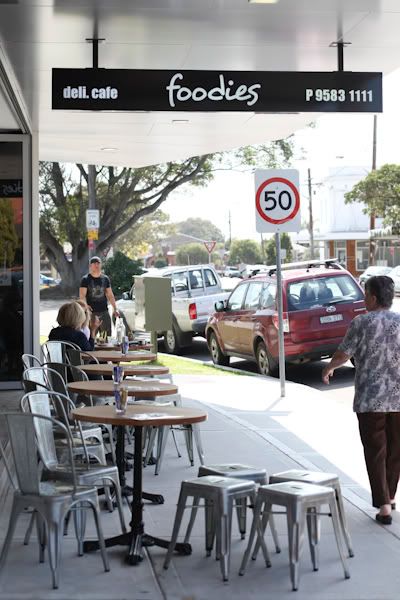 I'm not sure about the other cafes in this area, but if you are every around San Soucci, Dolls Point… I'd drop in for breakfast/lunch/coffee! The atmosphere I reckon, is pretty awesome

I almost felt like I was in Paddington or Surry Hills, does that suggest the cafe is in the wrong location? No, not really… because the street is on is quite… no hustle bustle. Their menu doesn't disappoint and prices are quite reasonable!… and um, they sell Brasserie Bread – if that's another convincing factor! Next time I'm going, I'll avoid getting Eggs Benedit, I promise. Healthier options for me!
Here's my SECOND Visit to Foodies! Read Part II
Check it out:
Foodies Deli, Cafe
29 Clareville Ave (corner of Russell Ave)
Dolls Point

9 Comments

it's CLARZZY!

foodie | photographer | designer | student
Feed me…
Popular Posts